Sometime in the wee hours of Thursday morning, I was plucked from a warm bed in Evergreen, CO, and traveled for an hour through damp, dark, foggy nothingness to Denver International Airport. I woke up in LA.
The idyllic days in Beaver Creek have come to a close, and I'm here in LA focusing on selling One Mango Tree products to west coast retailers. This involved some logistics, like procuring one [fancy] black PT Cruiser, spending 1.5 hours at the LAX Office Depot making copies, and then gridlock traffic into downtown LA to set up the trade show booth. The gridlock gave me plenty of time to enjoy
Morning Becomes Eclectic
, as well as the 80 degree California heat. ...And to soak up that yellow blanket that lays on LA. Smog. I'd forgotten about smog.
Trade shows are an odd by-product of industry. Thousands and thousands of buyers and sellers spend thousands and thousands of dollars on setting up a booth to peddle their wares. The LA Convention Center is cavernous - not unlike any other convention center I've had the pleasure of visiting. The
One Mango Tree
booth is nestled in the "World Style" section of the show, between a Virgin of Guadalupe light switch designer and a Peace/Love/Hippie purse purveyor. The only sounds are the whizzing of suitcases on wheels (more later) and a
Peruvian flautist
that played 80s tunes all afternoon.
I'm not really sure what the buyers put in their suitcases...but none of the wheely-suitcase-toters seem to stop at my booth. After 9 hours of sitting absolutely still, I did manage to snag three new wholesale accounts. The highlight of the afternoon, however, was when a happy West African woman came rattling down the aisle with $10 veggie lunches - jollof rice, cabbage and plantains.
One sale from today is really worth mentioning. I sold quite a few bags and neckties to the Santa Barbara Museum of Art. In March they are featuring an exhibit by
Yinka Shonibare
, a Brit/Nigerian whose work I stumbled upon when I started researching the history of wax-print. His work explores race and class issues - my favorites are his sculptures that mock the concept of achieving status through "cultural authenticity." So, in visiting SBMA, you'll see this: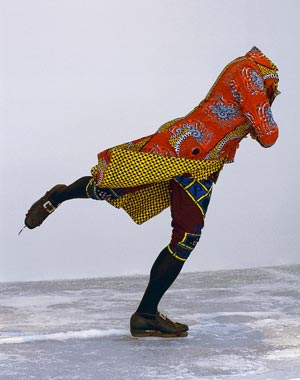 which is quite a departure from this:
And once you're done checking out Shonibare, you can head to the museum gift shop, pick up a One Mango Tree necktie and secretly mock your boss (!). Happy Friday.